Thank you for contacting Affordable Roofing & Solar, a representative will contact you shortly.

Solar Installation Experts...
Solar Company in Gilroy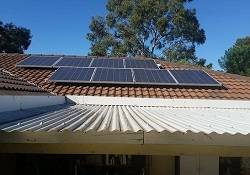 As a homeowner, you are fully aware of the cost to upkeep your house, and it probably seems like it increases each month. So, like many people, you turn to DIY projects to save a few dollars here and there, if you can. When it comes to your utility bills, you may have changed out all your light bulbs to energy savers and kept your thermostat at the lowest setting to save some money. The question is, what happens when you have exhausted all those options? That's a good question, and I am glad you asked.
The short answer is, Solar panels! You may have seen the commercials or received something in the mail about it. Solar panels are great for reducing your energy cost. Think about it, what is better than using the sun to create energy and save you money? If the sun still rises, you will be good...lol. Here are some benefits you may or may not know from a local Gilroy solar company.
Benefit #1 - Savings - Adding solar panels to your home can bring in monthly savings of well above $100. That sounds like a good deal to me!!!
Benefit #2 Increase the Value of Your Home - Solar panels will increase a home`s attraction on the market, similar to homes with low property taxes, homes in excellent school districts, and homes with good Home Energy Ratings (a measurement of energy efficiency).
Benefit #3 - Incentives - One of the biggest energy tax credits available to home and business owners is the investment tax credit for solar. This credit applies both to solar panels and solar hot water systems and is worth 30 percent of the cost of solar installation.
Benefit #4 - Environmentally Friendly - The U.S. places second in the world in annual carbon dioxide emissions at 17.9%, right behind China. You can go a long way in lowering your carbon footprint by replacing utility power with clean electricity from solar panels.
PRO-TIP: Always verify that your solar contractor in Gilroy is licensed, insured, and in good standings with the Better Business Bureau (BBB).
If you are ready to find out more about our solar company in Gilroy, do not hesitate to contact us. Our experts will get you all set up and saving money soon!
CALL AFFORDABLE ROOFING & SOLAR (408) 842-7100
Our Reviews
See Why Our Customers Love Talking About Us
"They educated me on the best solutions for my family, Jonathan was very knowledgeable in both roofing and solar. My house is 100% running off of the sun and this is the best option to take care of my family and the planet, excellent installation and optimal operation of the panels."
Jhonathan C.
Gilroy, CA
"I have a small family business for years. We were a little sceptical at first since there was no money out of pocket and they said the savings would pay for the program. 10 months later, its still working. I have been able to obtain savings with almost no risk thanks to the installation of the solar panels and new LED lighting. They also did something to our HVAC unit and got it to run more efficient."

Rick S.
Gilroy, CA
"Simmitri Energy Efficiency was a great experience and the team was a pleasure to do business with!"
Wolfgang W.
Gilroy, CA
"I have started to see the solar generation. They installers followed Covid guidlies and I felt safe. In fact they came out one day and they where done. I never had come in contact with anyone. They turned on the system remotley and gave me access to the monitoring app."

Victoria L.
Gilroy, CA
"Good service, I love how attentive you are to any questions before your system, thanks for the help. I recommend it! New energy efficient roof."
Jackline R.
Gilroy, CA
"The Simmitri Team did an excellent job replacing my roof and installing my solar system. Jonathan Garcia was extremely responsive throughout the process."

Alan M.
Gilroy, CA